While Amanda travelled Siberia, Toms spent three weeks walking the Pennine Way – a dream for those who love solitary hiking, enjoy bleak hills and wide moorlands, and don't mind the English weather. The Pennine Way starts in a small village called Edale in Derbyshire County and ends 429 km later in Kirk Yetholm in the Scottish Borders region.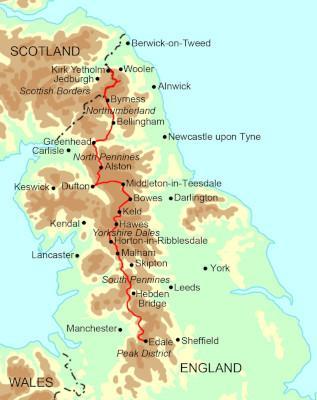 Recommendations
You might be surprised to learn that England is a great place for hiking. Thanks to the public rights of way legislation, a wide network of short and long distance trails exists (for details see Ordnance Survey maps). Hikers' interests are well taken care of by various associations, it is no major problem to find youth hostels, B&Bs, or hotels along the way, and the landscape is rewarding.
The Trailblazer's Pennine Way guide in combination with a GPS or compass is really all you need for planning and hiking this trail.
It makes sense to book accommodation beforehand – at least for weekends and bottlenecks, such as Keld where the Pennine Way crosses the popular Coast to Coast Walk or the tourist hot-spot of Malham. An up-to-date accommodation directory can be found on the National Trails' website.
Of the 18 accommodations I had during my walk, there are a few places I want to draw special attention to:
Finally, a tip for speakers of American English: in these parts of the world use "lovely" instead of "awesome".