Puglia

After last-minute car trouble postponed our plans for a central European road trip, Bari (at Italy's heel) turned out to be the most affordable destination south of Ljubljana, so off we were. We rented a car at the airport and headed straight past Bari to the hills and the famed trulli region of central Puglia, Italy's heel. A trullo is like a dry, southern-climate version of a Hobbit's house: a small, cone-shaped building made of flat stones that is characteristic only of this part of Italy. Drive up into the hills of Puglia and they're everywhere: from old, gray, half-collapsed sheds on the edge of fields to cute homes consisting of a couple of trulli and a modern addition and even white-washed mansions with a dozen trulli tips rising from the roof. Puglia, or at least this part of it, is more densely inhabited than we imagined. Where there are no houses or towns, it's agriculture, particularly olives, and rocky, red soil.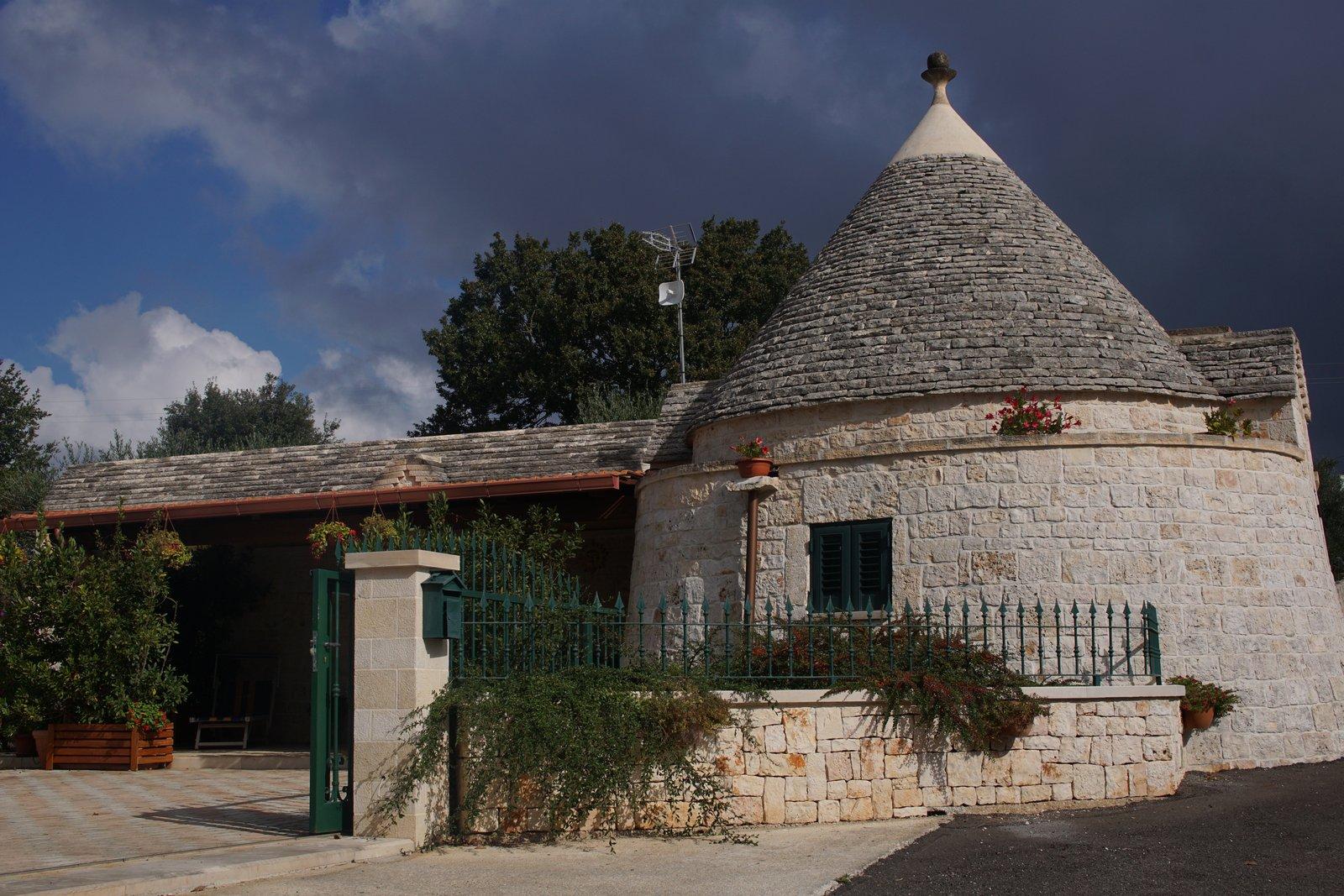 So, of course, we booked our first three nights in a trulli house. The owner of Residenza di Nonna Giulia speaks no English, so I had to jump right in and try to speak at least a few sentences of Italian (the first of many, many such occasions). First challenge: call the property to tell them what time to expect us. Nonna Giulia is a few kilometers from the town of Locorotondo, which doesn't have any real tourist attractions, but it's a very pretty hilltop town. It seems that most of the towns in southern Italy are hilltop towns, or at least started out that way.
On our first full day we made a loop through Italy's heel: mainly Abbazia di Santa Maria di Cerrate and Lecce. Lecce also has a pretty historical center, but this part of the heel is flat instead of hilly.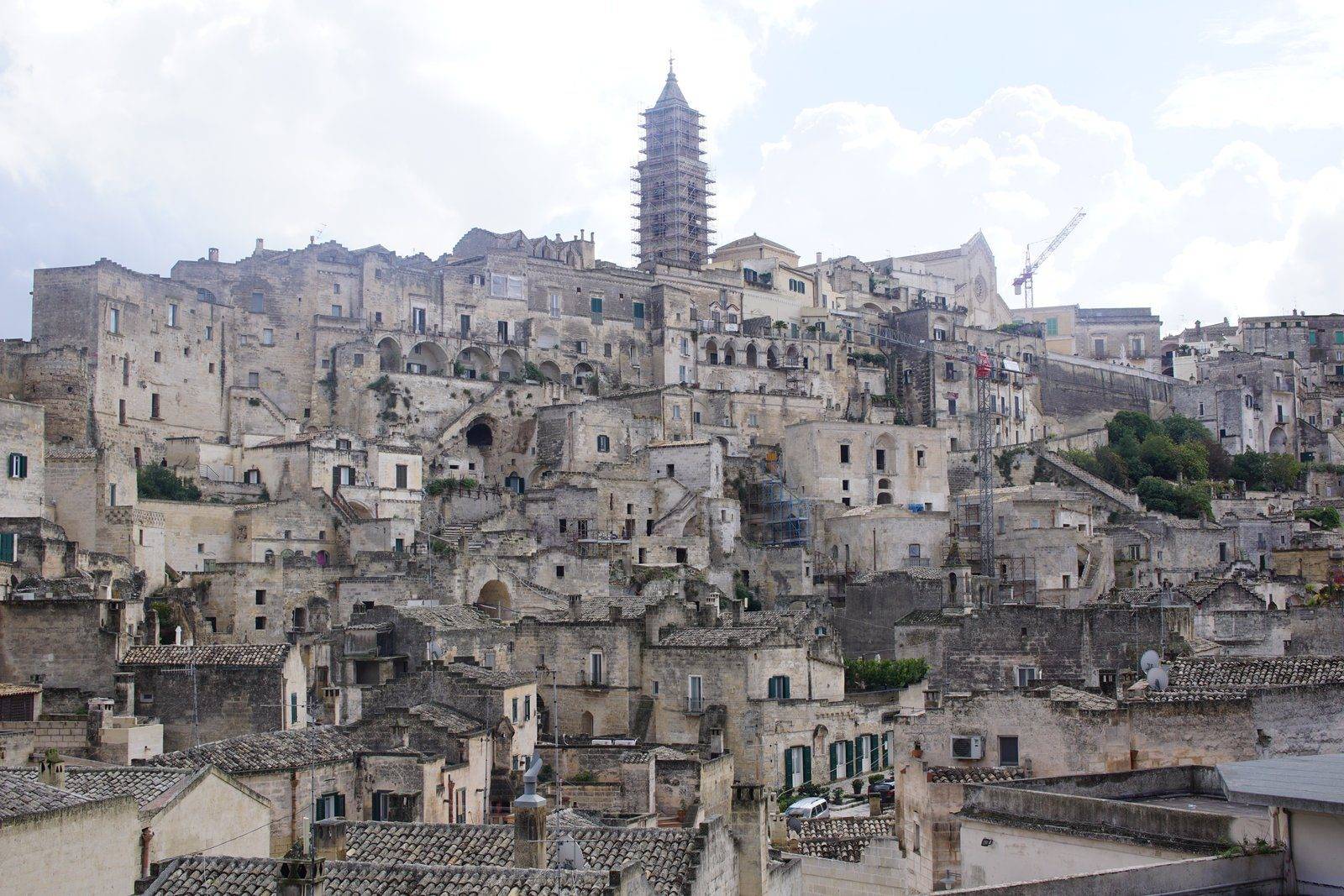 On the second day we drove to Matera, more towards the instep of Italy's boot. It didn't look that far away on the map…but the roads are all narrow and curvy, lots of roundabouts, and fairly heavy traffic. First impressions of the Matera: it's a lot bigger than I imagined, and it's not at all abandoned. This is the city that, although a wealthy regional center in the Renaissance and Baroque eras, eventually became notorious for the slum that its historical center had become, where people were literally still living in caves (some dating back to the Neolithic, expanded over the millennia into living spaces and then foundations for villas), often together with their livestock, until the 1950s. As a part of a misguided government program, the residents were relocated to new housing projects, leaving the historical center more or less abandoned. Until the 1990s(?) or so, when film crews and then restorers and tourists discovered it. The attention the city has since gotten is justified, because it really is an impressive place. It's said that what you see is only 30% of the city; the other 70% is underground. (https://www.smithsonianmag.com/travel/mater-went-from-ancient-civilization-slum-hidden-gem-180949445/)
We only saw a little bit of that 30%, and I'm sure there's plenty to explore for several days and more, both under and above ground as well as down into the canyon that the city overlooks. Matera will even be a European Capital of Culture in 2019. But on our admittedly very short tour it somehow seemed to lack soul, at least in the most touristy part. I think we just didn't delve deeply enough. And maybe we should have started walking in the less touristy part of the old city.
On our way out, we drove into Murgia National Park on the other side of the canyon, across from Matera's old town. There are guided tours of the ancient churches in caves, but we just hiked a little on our own past, and into, some of the caves that are open to the public without a tour. Very nice!
---
Calabria
The next day, we were off to Calabria, Italy's toe. Even before we hit Taranto, the roads straightened out and became a lot faster, and we made it to Tropea in no time at all. Along the way, a stop at Terme di Caronte near Lamezia Terme, where there's a public pool right by the side of the road. The sulfuric water stinks a bit, but the water was warm and soft and very relaxing. There were a handful of local pensioners in the pool and an attendant sitting next to a box for donations.
Tropea is probably the most popular tourist place in Calabria. After all, it IS pretty, has proper tourist infrastructure, and has a nice beach. It is also full of tourists. So we were skeptical…but we actually liked it very much. Maybe because we were there on a couple of sunny days in the off season. In any case, it felt like a real vacation. We found a room in an old palazzo from 1800 (if I understood the owner correctly), just a few minutes' walk from the town center, with a half-way decent (for northerners) breakfast and a clear view of the ocean and Stromboli in the distance…all for EUR 45 a night.
The view alone was worth more – and I am most definitely not a water/ocean person. Best of all was showering with the window wide open to a view of nothing but blue sea and Stromboli. We even went for a short swim in the sea, which would not necessarily be a given for us.
---
After two nights in Tropea, we continued on to Scilla. Of Scilla and Charybdis fame (= Greek mythology and also The Police), but also supposedly one of Calabria's tourist towns. We found a great B&B at the top of the fishing village, and I didn't want to leave. Unfortunately, the town itself didn't seem quite what it was made out to be. Pretty, yes. And the fortress at the top of the cliff was pretty good, too. But not much more, other than fancy seafood restaurants along the edge of the sea. Toms doesn't eat seafood, and neither of us require fancy food, so we searched for something else and found only one pizzeria in the entire fishing village. At least it was very good pizza. And we took advantage of having no pressure to sightsee (and a bit of drizzle) to call it a work day – each of us at our own computer on our own balcony. Not bad at all.
Scilla consists of three distinct parts: the old fishing village, the beach district on the other side of the cliff (not the least bit inspiring in October, and perhaps not in the high season, either, we imagine), and the "new" part of town up on top of the hill. So, that probably doesn't help in forming a of sense of unity. But at least there's that legend of the sea monster under the cliff to hook in the tourists, like me. It just so happened that the German Travel Industry Association was holding its big annual conference in Calabria, and the whole group was bound for Scilla on our second evening there. The whole town was in a tizzy getting ready for these important guests. There was a live band on the central church square, wandering folk musicians, wine tasting throughout the pedestrian zone, fancy dinners at most of the restaurants (just try getting a pizza on a night like that!), and even what we think was a wild but mock bachelor's party to give a sense of liveliness to the town. Oh, and an impressive but totally superfluous fireworks display, to which we had front-row seats on our balcony.
---
After two nights in Scilla, onward around Italy's toe (it was too hazy to see Etna in the distance) towards our next accommodation in Gerace near the Ionian coast, but with detours to two abandoned villages. First, Pentedattilo, which means 'five fingers' in Greek, due to the cliff behind the village that looked like a hand with five fingers before an earthquake toppled a couple of the fingers. And Greek because this was once a Greek-inhabited region, with some people still today speaking an old, regional dialect of Greek.
And then on to Roghudi Vecchio. Maybe I should have taken heed of the one or two comments on the internet to best hire a guide. But the road looked so normal and logical on the map… From the coast to Bagaladi (so far so good, although slow and stressful), then across to Roccaforte del Greco (more challenging), and from there to Roghudi Vecchio (absolutely awful). Compared to Pentedattilo, RV is really abandoned. The population moved away in the 1970s, so there are still quite a few "living" details left. Actually, it's kind of spooky. And completely isolated. Probably good that Toms was with me to keep me from climbing down too far. We were the only ones there, but luckily it was a Saturday and another car drove up as we were pulling away. It had come from the other direction, via Bova, and said that the road was better that way. Otherwise we probably would have gone back through Roccaforte – better the devil you know.
In fact, the road to Bova was only a little better. But at least it was more inhabited: first goats, a shepherd, then cows, then mean roaming dogs. But no other cars. I was driving and concentrating too much on the road (and having lots of fun, I admit); Toms was a bit scared and probably concentrating even more on the road than me. So, no pictures. You'll have to search the internet for other people's pictures. Note to other travelers: have a reliable car and know what you're getting into. Hiring a guide is really not a bad idea. Ah, if I had lots of days, lots of guts, and a good map, I'd love to explore some more. We just barely touched the surface of Calabria.
We arrived in Gerace early that evening and stayed at Locanda Il Cappero just outside the historical center. Gerace is a well-preserved medieval town and really is very pretty and photogenic. Unfortunately, it started raining as soon as we got there and didn't really stop. We spent the first part of the next day walking around the center and getting pretty wet despite our rain coats. We called the rest of the day a work day and settled in at the B&B. In the early evening we drove down to Locri and Siderno on the coast (not inspiring towns at all, at least not in October), filled up the gas tank, stopped at a grocery store, and checked out the local mall. By that time it was absolutely pouring some mighty impressive rain. The edge of the road up to Gerace had washed out in two places in the past 24 hours, and three places by the next morning.
The weather forecast for all of Sicily and Calabria was cool temps and rain for the next several days, so we aimed for better weather: Naples.
---
Naples
No Amalfi coast, Vesuvius, or Pompeii this time (all three were a highlight for our family in the mid-1980s, when we were living in Germany and took a road trip to Italy over spring break), partly due to time, partly to my non-archaeological/non-geological traveling partner, and mostly due to recent bad weather that had closed the path up at the top of Vesuvius. But I oohed and ahed as we drove past.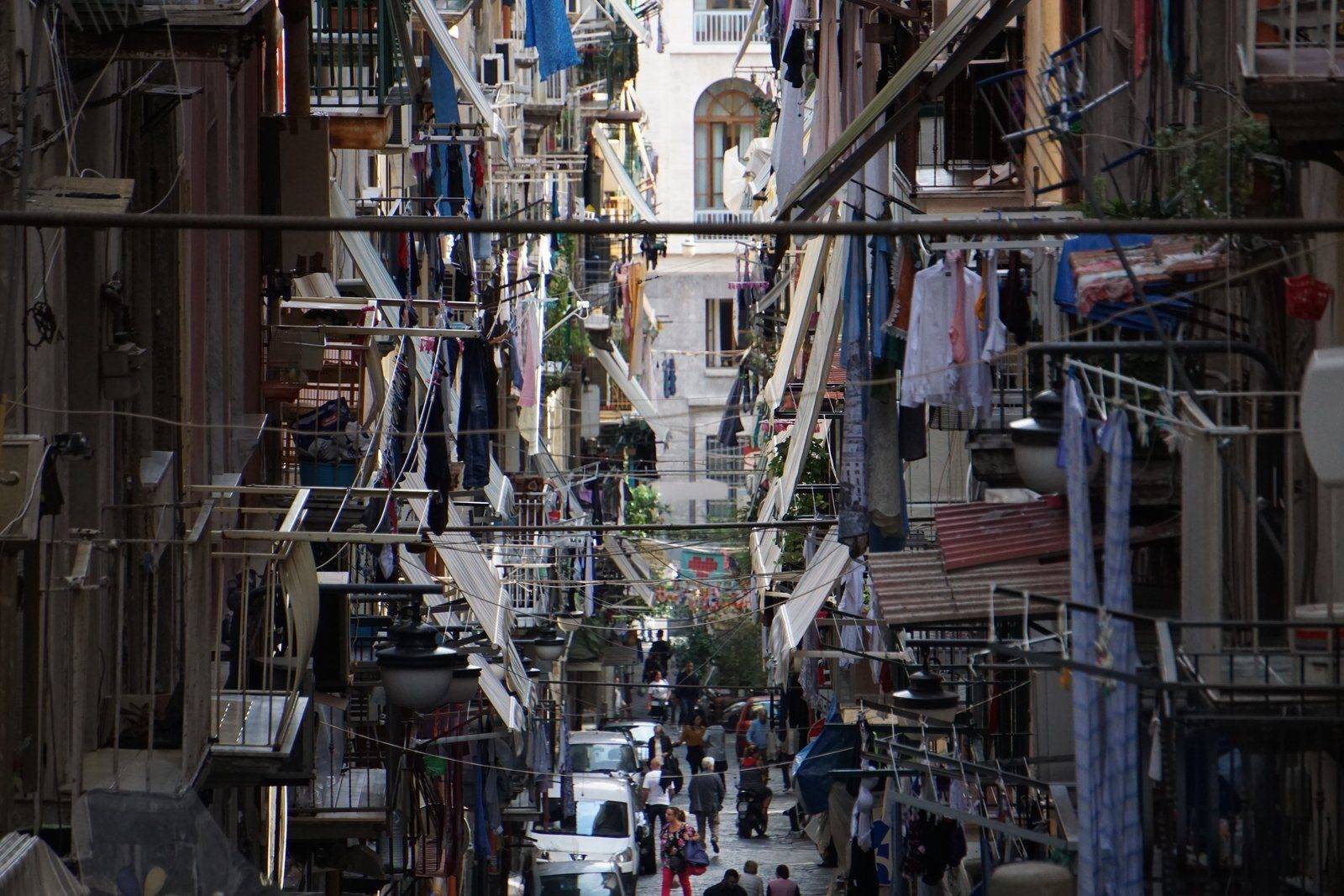 We booked two nights at a new B&B more or less right in the heart of the city. After parking the car in a nearby underground garage and finding our way to the B&B, we walked a little loop along a main shopping street, dipped into the historical center, and immediately extended our stay for one more night. Yup, we liked Naples right away.
The next day we took the metro to the Vomero district, up on the hill west of the city center, to check out the market(s). Not too busy on a Tuesday, but we had a nice, long stroll through the neighborhood, food market, clothes market, etc. On the way back down we had some good views of Vesuvius. Then the Spanish Quarter, coffee + pastry, and a few hours of work before wandering out again into the historical center, aperitif, and dinner. What a city! Constant motion, constant noise, constant chaos.
Wednesday was my museum day. If I wasn't going to be able to peer into Vesuvius' crater, I needed to at least close the circle and see the famed National Archaeological Museum, which has much of the statues and other details found at Pompeii and Herculaneum. Of course, I like it, but good thing Toms stayed at the B&B and worked. It's a hardcore museum and not for everybody.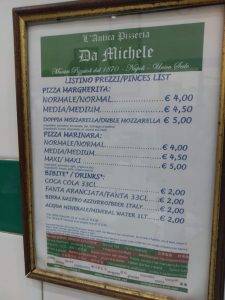 I met Toms for lunch at another famed location, L'Antica Pizzeria Da Michele, for supposedly real Neapolitan pizza. The menu is basic as can be: margarita or marinara, large or extra large, Coke or beer. The pizza is cheap and really is good, although pretty soupy, so it probably gets soggy if take-out. Then Toms wanted some culture, too, so after pizza we went to Museo Madre, a contemporary art museum in a former palace on the edge of the historical center. Then coffee and more wandering around and watching the reckless scooter drivers dodging between and ahead of cars and around tourists, transporting everyone from girlfriends, mothers, and texting teenage daughters to the whole family and even the pet dog or television set. Then aperitifs and snacks, but no dinner because of the big pizza lunch. What a city.
---
Bari
Three nights in Napoli was enough for us introverted northerners (but we're ready to go back at the first chance), so on Thursday we packed up, retrieved our car from the depths of the garage, and headed east, back towards Bari.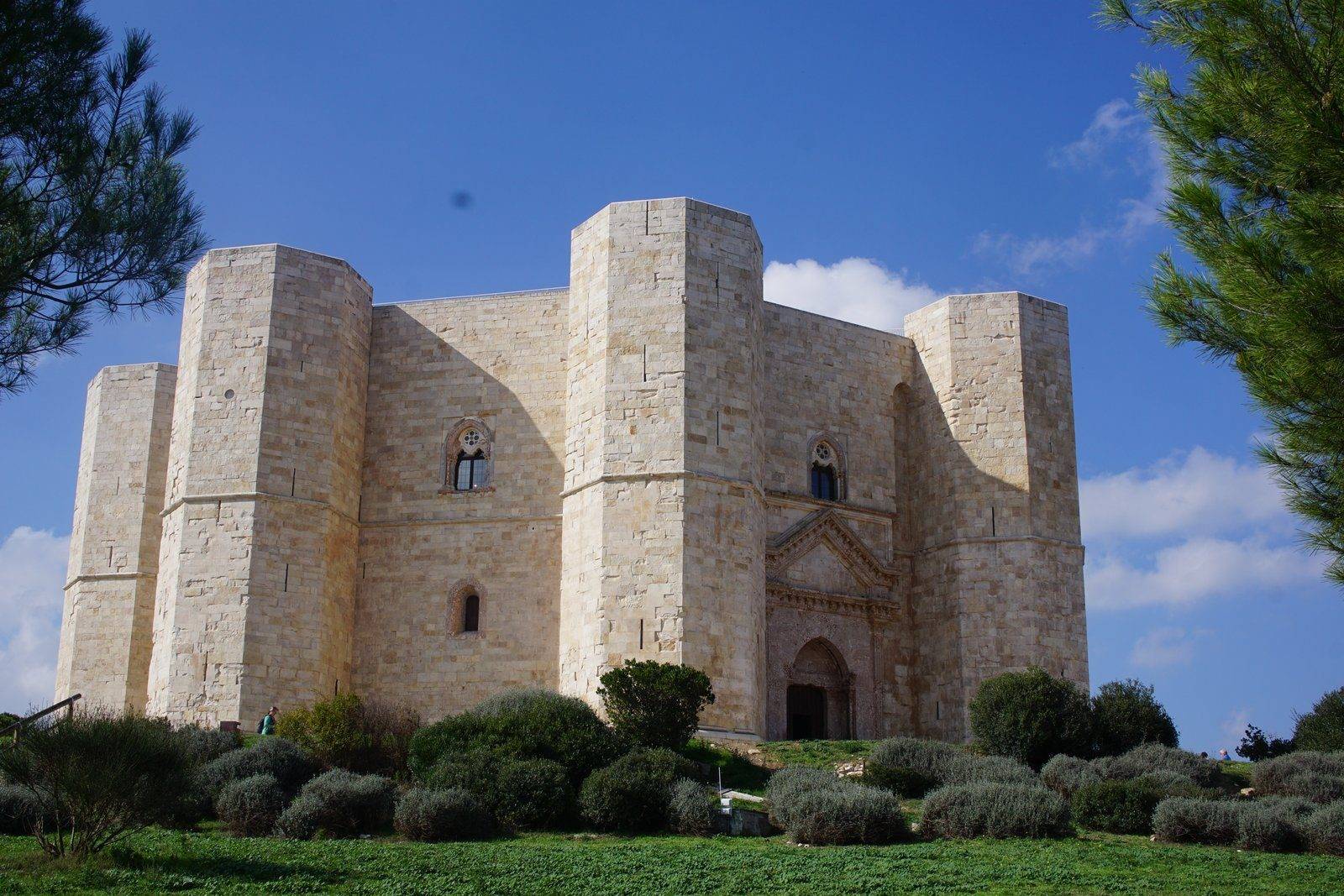 A short stop at Castel del Monte south of Andria, west of Bari. Built by Emperor Frederick II in the 13th century, it seems kind of out of place – a beautiful, perfect, octagonal fortress stuck in the middle of nowhere and with no apparent defensive purpose. We happened upon a couple of German tourist groups and listened in on some of what their guides said, but didn't go inside. Next time.
On to the Bari marina, where Toms had booked a boat for us to stay the last two nights. Yes, a real boat… And I, the continental, dry-land person, loved it! It helped that the weather was pleasant and warm and calm. That evening we walked into central Bari, about half and hour's walk or more. After Roghudi Vecchio and Naples, Bari no longer seemed that much out of the ordinary. But its historical center is clean, cared for, pretty, and actually lived in by locals. It feels like a living town with a soul. But boy, did we get lost in those winding little streets.
On our last full day we drove to Polignano a Mare a little down the coast from Bari. A pretty town on a seaside cliff. Lunch and ice cream there, then back to our boat in Bari for wine and sunset on deck and gentle rocking off to sleep below deck. The next morning we went into Bari's center again to buy a few souvenirs (for example, handmade pasta) and then off to the airport.
---
Tips
Locorotondo
Residenza di Nonna Giulia – full kitchen including some basic stuff. Also fresh fruit on the table, a bottle of wine, coffee, and a few Italian breakfast sweets. Last house in a tiny village a couple of kilometers outside Locorotondo. Take the small back roads to walk to Locorotondo proper, about half an hour's walk.
Gran Caffé (Via Giulio Pastore, 40) and Giochi di Sapore (Corso XX Settembre, 61) – both are good pizza places in Locorotondo.
If you like greens and don't mind a bit of bitterness, definitely try the local specialty of orecchiette pasta (or bean puree) with chicory or other bitter greens. It's a very down-to-earth, successful combination of flavors.
Matera
Casa Noha is not really a museum. Basically just a series of videos in a couple of stark rooms telling the story of Matera, but it is well done and worth the visit. Gives a much better appreciation of the place.
Both in Matera and Naples we parked in an underground parking garage. To make the most of limited space, they pack in the cars, double/triple/quadruple-parked, and you leave the key in the car. Apparently standard practice, but I have little experience with cars in big cities where space is really tight.
Tropea
Residenza Valentina (Via Libertà, 12) – It's an old building with a few quirks, but the place is simply wonderful. Breakfast is pretty good for Italy, too: fruit, croissant, yoghurt, coffee, water, all outside on the terrace. Entrance is a few meters back from the main road, can be a little hard to find.
Ristorante La Lamia – pleasantly peaceful courtyard, good food.
Scilla
Sole e mare di Chianalea (Via Nazionale, 197) – three tiny rooms (bedroom, full kitchen, bonus room + bathroom) spread over three floors, each with its own balcony with a clear view of the sea. It's all very quirky in a 1950s, artsy, Marilyn Monroe-ish sort of way…especially heavy on the Marilyn Monroe. But it's comfortable and homey and was my favorite accommodation of the whole trip.
La Piccola Venezia (Via Grotte, 32) – good pizza, balcony overlooking the sea. Also has a restaurant.
Pentedatitilo
There's a nice, easy hiking trail around the cliff that takes less than an hour.
Gerace
Locanda Il Cappero (Via Campanella, 1) – Nice B&B with full breakfast, different each morning, but always very good and filling. The owners also run a restaurant and a farm. Located on the edge of the historical center, although it's a short hike to the actual city walls.
Ristorante La Terrazza (Via Nazionale) – A family restaurant owned(?) by the same people as the B&B. Good food, good pizza.
Napoli
B&B PantaRei Napoli (Via Cardinale Guglielmo Sanfelice 33) – No view at all, but great location, nice room, and very attentive host. Only two rooms, on the second floor. This B&B has only been open for a few months, so for the time being breakfast is served at a sidewalk café about a block away: coffee/tea, choice of pastry, and some pleasant people-watching. The B&B has a coffee machine and microwave oven. Reduced-rate parking at a nearby garage (about 4-5 blocks away).
Locanda del Cerriglio (Via del Cerriglio, 3) – Suggested by B&B host, touristy but nice and good food.
Anonymous Trattoria Gourmet (Via Rua Catalana, 117)
L'Antica Pizzeria Da Michele (Via Cesare Sersale, 1) – Very popular. Take a number and wait outside to be called. The in-out system runs very smoothly, and the pizza is cheap and good.
Bars around Piazza Bellini, near western end of Via dei Tribunali – Lively spot.
Bari
Boat, Sleep & Tour EHoa – Glamping on the last boat in the marina with a clear view of the harbor. It's a three-kilometer walk into town, but the road is flat and the sidewalk is decent. There's a toilet on board, but the toilet and shower at the marina are free and more comfortable.